This area of the site is broken down into a number of smaller ones, mainly to keep things organized. You can navigate to the different section using the links below. And you can always click on the art link in the menu bar on the upper left to come back here.


Comics and Sequential Art: each of my two graphic novels have a mini-site that links off this page. Stargazer, my most recent graphic novel, can be found by clicking http://stargazer.vonallan.com. The road to god knows..., my first graphic novel released in late 2009, can be found at here. Each mini-site contains extensive information about each book.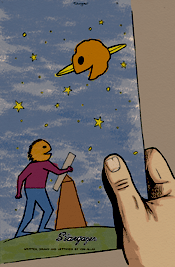 Paintings and Colour Work: I primarily work in watercolour and goauche when I paint and this area has a number of samples for you covering a wide range of subject matter. More recently I've begun to do some digital painting and this area contains some of those, too.










Pinups and One-Off Illustrations: a variety of other illustrations that I've done that don't fit easily into the other categories. Some were done simply for fun!











Lifedrawing (fair warning: there's artistic nudity here): a combination of gesture sketches (in the 90 second variety) and longer poses from between 20-45 minutes approximately. There's also a combination of live model work (primarily at the long running Sandy Hill Lifedrawing Workshop) and work from photos (from a variety of sources).