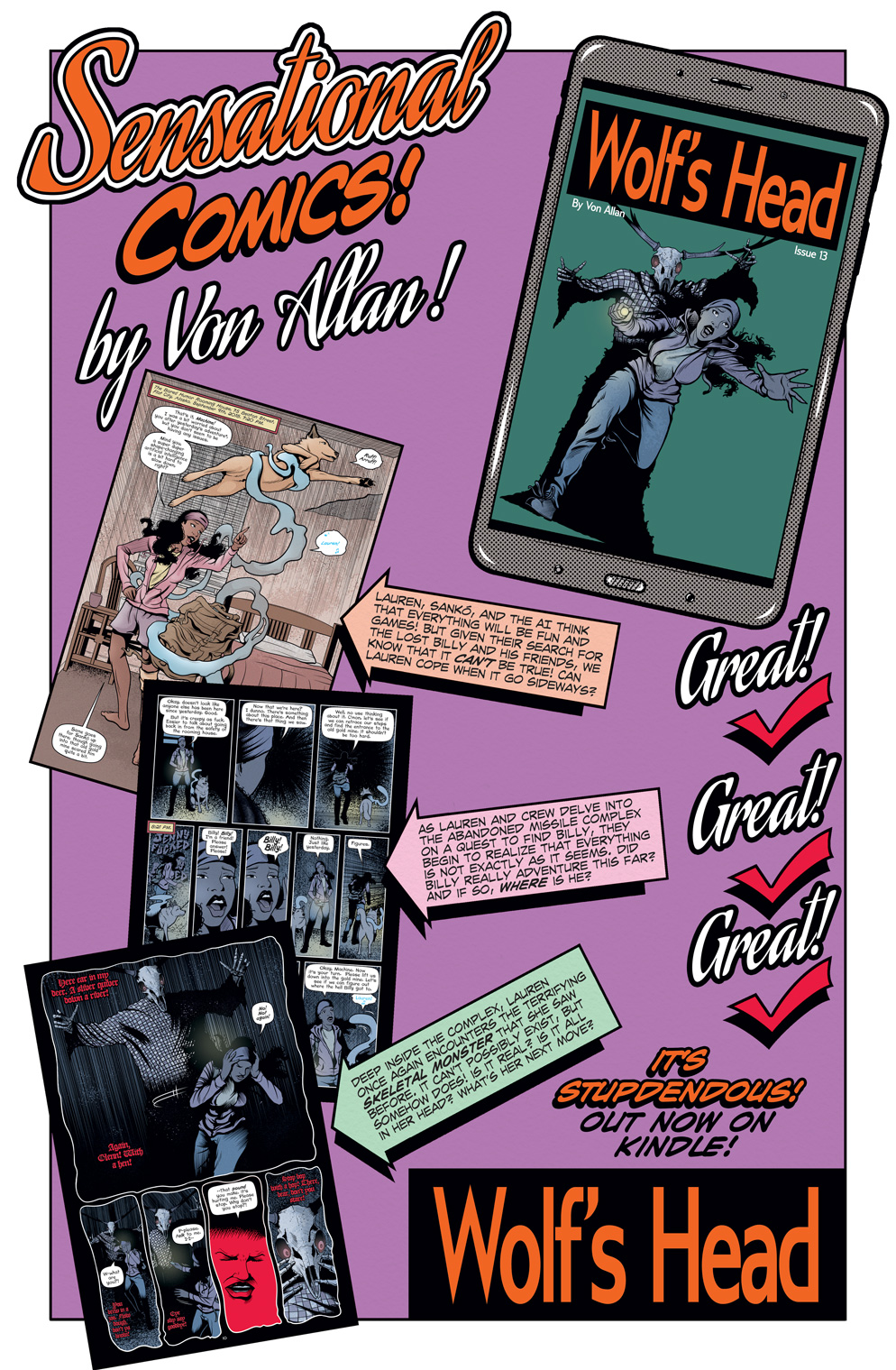 This issue is slightly bitter sweet. Why? Well, on the one hand I'm extremely proud of how it turned out. It's a terrific issue, featuring some fairly terrifying elements and (if I do say so myself) some neat storytelling twists. However, it's also the
last
issue that will be collected into trade paperback format. As many of you know, the way
WOLF'S HEAD
was serialized in print was a bit of a problem. The idea was simple; collected two digital issues into one approximately 60-page book, give it an ISBN, and get it into bookstores (probably a stretch), online retailers like Amazon (much easier), as well as Diamond so the series would get into comic book stores. It was that last point that proved such a massive headache and I'm still not sure why. I've written a
much longer piece
that goes into some of the "ins and outs" of this situation, but suffice to say it was (and is) pretty discouraging.
However, with a negative often comes a positive. In this case, there are two. First, the digital series will certainly continue! Awesome! Secondly, I'll be moving the series into
hardcover
format very shortly. The first
WOLF'S HEAD
hardcover will collect the first six digital issues — the first story arc — and be about 170 pages in length. Other hardcovers will follow that. This means that readers will get a beautiful hardbound graphic novel!
What about this issue? Here's the quick pitch: "While hiding in Alaska with her rescued Artificial Intelligence and dog, Lauren Greene has been pulled into a desperate search for a group of locals who've disappeared into an abandoned government complex. With no help from the police — and afraid that asking anyone else for assistance would risk revealing the AI to the people hunting it — Lauren chooses to return to the mysterious complex and search alone, despite the mysteries and terror she knows await her there."
This issue can be found at
https://www.amazon.com/dp/B09FWD2Z8W
; if you're living somewhere
aside
from the United States, all you need to do is change the domain to reflect where you live. If you live in Germany, just replace the "dot com" with "dot de"; in other words, the link becomes
https://www.amazon.de/dp/B09FWD2Z8W
! The same idea works for the series page. On Amazon.com, it's
https://www.amazon.com/dp/B08MTGCS49
. In Germany, it would be
https://www.amazon.de/dp/B08MTGCS49
.