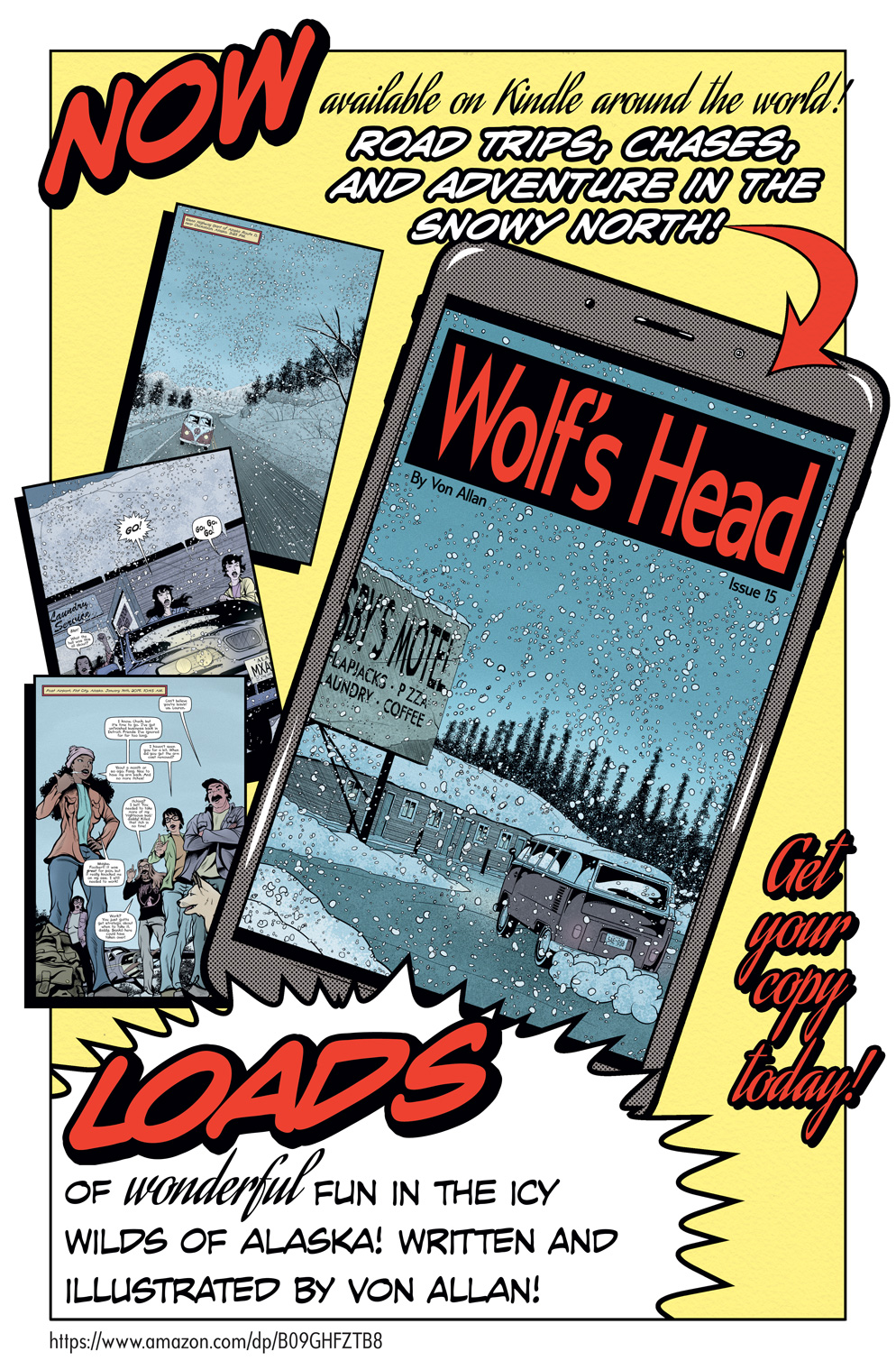 First, the elevator pitch: "Lauren Greene has left Alaska in an old VW Bus, headed for Detroit with her dog Sankó and the young artificial intelligence they've befriended. Hoping that her return to Michigan will finally secure the AI's safety, Lauren is shocked to discover that she's being tailed. Mustering up her courage, Lauren challenges the 'tailers,' only to uncover a far greater danger to both her and the AI."
This issue can be found at
https://www.amazon.com/dp/B09GHFZTB8
; as always, if you're living somewhere
aside
from the United States, simply change the domain to reflect where you live. For example, I'm in Canada, so I just need to replace the "dot com" with "dot ca"; in other words, the link becomes
https://www.amazon.ca/dp/B09GHFZTB8
! Easy!
I truly love issues like this. Why? Well, last issue resolved a lot of the action and intrigue that Lauren Greene was experiencing in the mysterious town called Flat City in Alaska. This issue picks up some time later and spins the story in a different — and hopefully fun! — direction. Not out of the blue or out of character or anything like that, but taking the logic of the previous issues and continuing to build both the world and the characters.
That's
something I find incredibly rewarding… and damn exciting, too!
My feeling is that if
I'm
excited, that will be something that the reader will pick up on, too. I hope so, anyway! Doing the research on this issue was also a great deal of fun; while I know a number of people from the north, I have never been to Alaska myself. To do it properly takes some research and adds, I think, a certain "verisimilitude" to the story. I actually learned a few things, which is part of the fun of doing research.
One of the inspirations of this issue is the just unbelievable artwork of
Hasui Kawase
(川瀬 巴水, born May 18, 1883 and died November 7, 1957). If you're not familiar with him,
Wikimedia Commons has a decent collection of his artwork online
. Take a peek and I think that you, too, will be blown away. See if you can spot his influence in this issue of
WOLF'S HEAD
— it shouldn't be hard!