Our dog, Rowen the Siberian Husky, has died. This is a loss that I will feel for probably the rest of my life. It might sound odd, but it's about as equally difficult for me as the death of my mom in '94. I certainly haven't cried as hard since that time 'til now. It is amazing how connected we can become with animals. This is a tough loss, partially made hard by the knowledge that I will never see my dog again.

In many ways we were really lucky. She was quite healthy right 'til the end, only dealing with a bit of arthritis in the past few years. She was still spry and playful but had developed what most likely was initial kidney problems in early December. We were in the process of trying to resolve them (blood work, urine samples, you know the drill) when she had a seizure in the early hours of December 16th. That was almost guaranteed to be a brain tumour. So, after talking with the vet at the emergency hospital, we decided to put her down. Rowen was never alone and both Sammy and I were with her right 'til the very end. She died in my arms, very peacefully.

Here are a few photos of her life.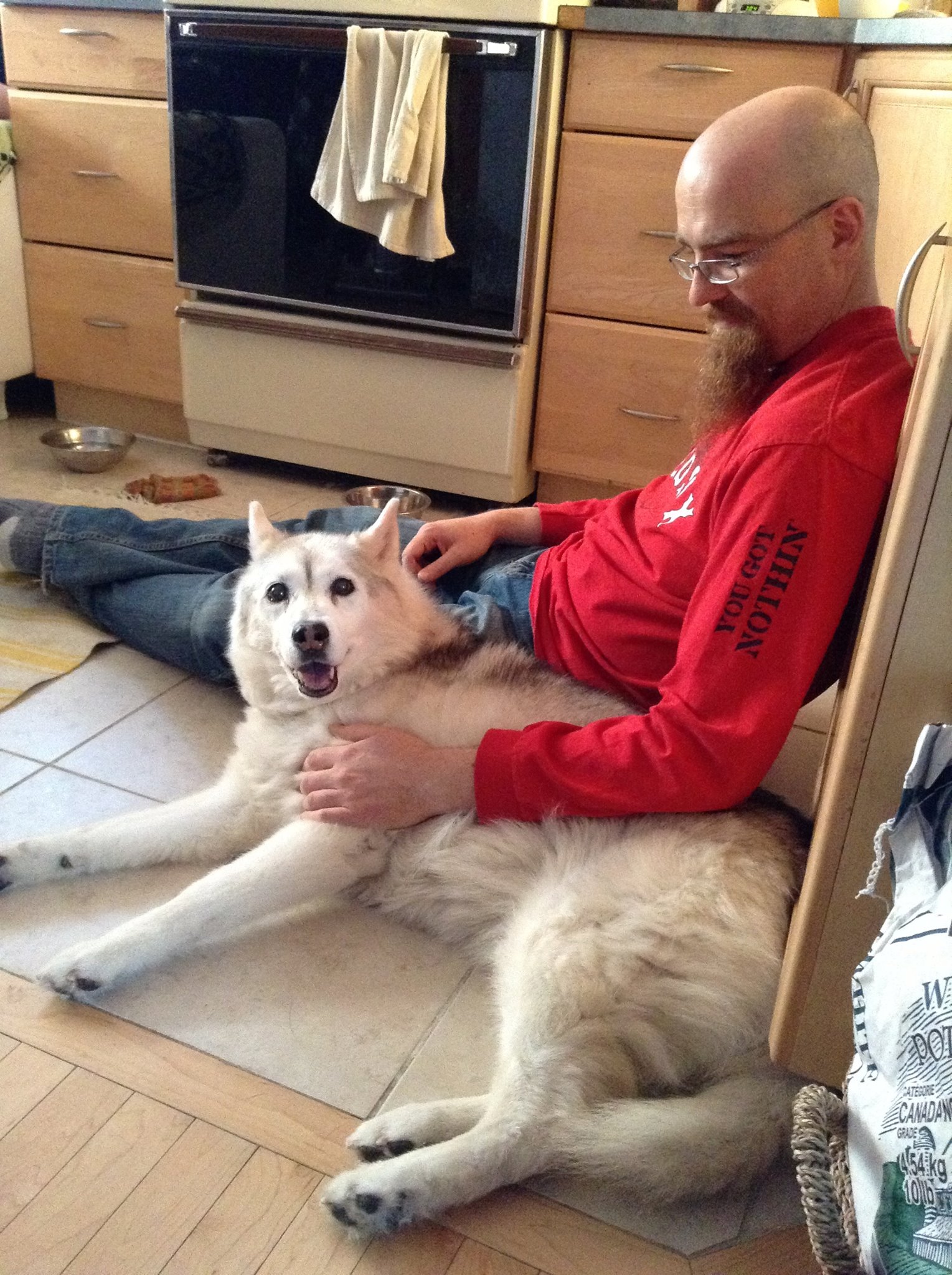 And here are a few taken hours, as it turned out, before she died.
One thing I really like about being an atheist is I get to face the world as it
is
rather than being clouded with faith. I'll take evidence-based reasoning over anything else any day of the week. Besides, asking "How do you know that?" when it comes to religious matters has been and continues to be a very useful tool for me.
I will say that evolution can be cruel sometimes; evolving these emotions and this "thinking machine" brain of ours can make loss and grief difficult to deal with. I miss my dog. Yes, I miss the abstract stuff (the companionship, the routines, etc...) but I truly and very deeply miss HER. The unique things that made her a truly remarkable and wonderful individual. We may eventually get another dog, but the "stuff" that made Rowen unique is gone forever. I'm glad I knew her and I'm glad she was part of my life. But I wasn't ready to say goodbye and I find not being with her far harder than I ever thought it would be. She had a remarkable personality; a very loving dog, a dog with a sense of humour, and she was definitely a bit (more than a bit!) of a smart ass, too. In other words, she was a character.
It's a bit odd to see the world just move on despite our grief. I've experienced that before, of course, but it was kinda brought home again since Rowen died. Not that I'd expect things to stop, of course. It's a weird world we've made, full of amazing things. Human beings have a remarkable capacity to love but we also have a remarkable capacity to do harm and injury to each other. I think if we could "suffer the death of our neighbour" maybe, just maybe, the world would be a better place. Maybe a little less bloody and a little less cruel. I guess what I'm saying is be good to each other, be compassionate to other people, as hard as you can.
And here's to you, Rowen. I'll miss you forever.