Links to various short stories I've written and illustrated are below. Longer works (graphic novels) are listed after that.


Wolf's Head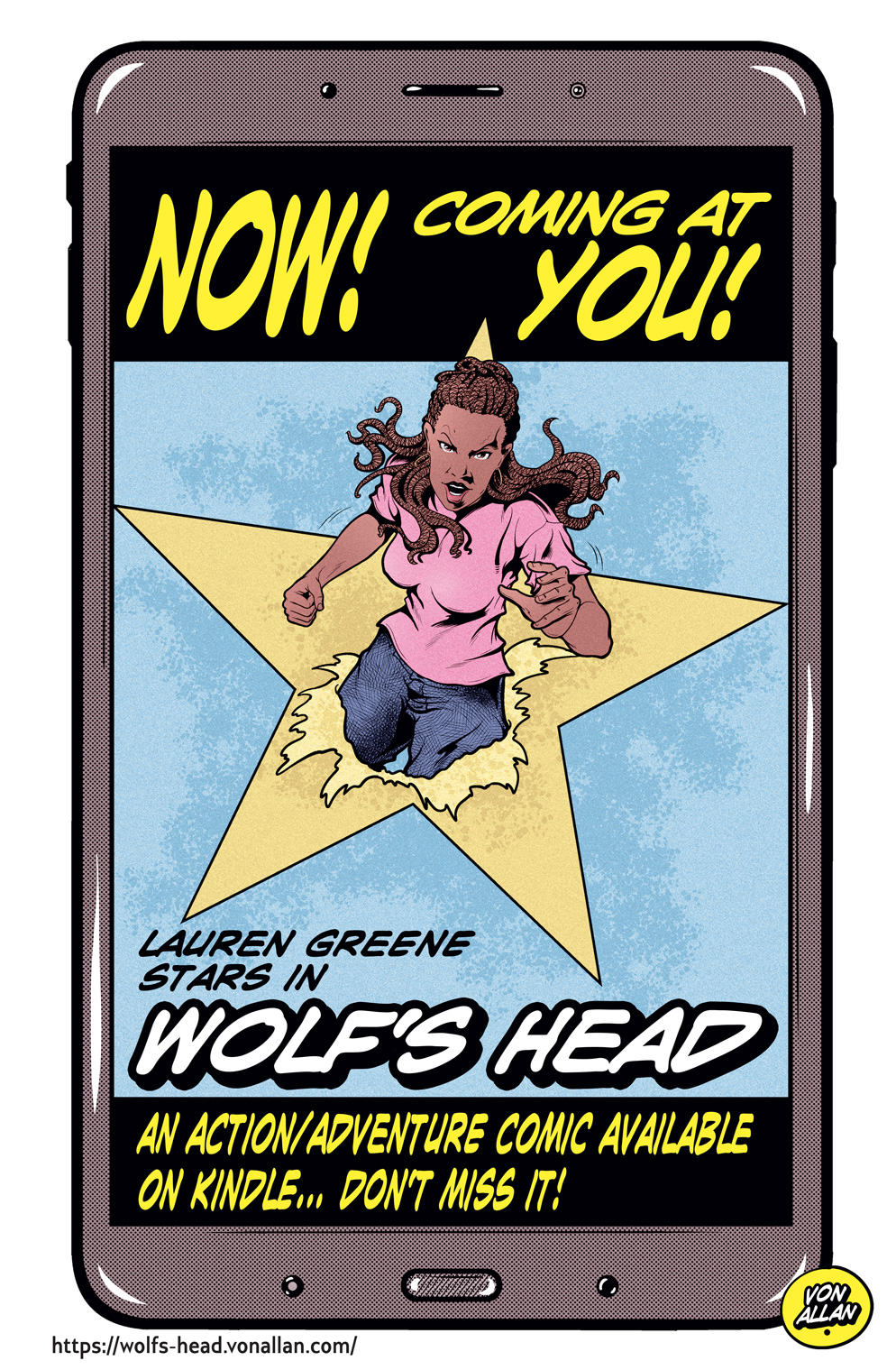 My ongoing comic book series WOLF'S HEAD has been rolling right along for the past few years. It's an action/adventure series with a sci-fi bent that is a great deal of fun… and probably the most rewarding comic I've ever done!
The series is available in multiple formats:
On Kindle/ComiXology — the series page is at https://www.amazon.com/dp/B08MTGCS49. Oh, and for those wishing to shop from someplace other than the United States, simply replace the "dot com" link to your preferred location and the link will still work. For example, here in Canada the link is "dot ca"; therefore, the series page can be found at https://www.amazon.ca/dp/B08MTGCS49! See? Easy!


In Hardcover — the first six digital issues have been collected in a beautiful full colour hardcover titled WOLF'S HEAD BOOK 1: WE ALL WANT TO CHANGE THE WORLD. The hardcover is available in better book stores and comic shops, as well as online through retailers such as Amazon, Barnes & Noble, Waterstones, Bookshop.org, IndieBound, Books-A-Million, McNally Robinson, and so on. More information can be found right here.

And for those curious about reviews, Frank Plowright over at The Slings & Arrows GRAPHIC NOVEL GUIDE wrote a wonderful review. An excerpt: "Lauren is well characterised from the start, but the people she's surrounded by, good, bad and indifferent, are also easily understood, their motivations clear, which enables the plot to roll out smoothly. By the end the We All Want to Change the World title has taken on a different meaning, and over an enjoyable 160 or so pages Allan has supplied a drama to lose yourself in, and set up a lot of potential going forward. In an age of effects wizardry being cheap, TV production companies could do far worse than look in his direction."


Previously WOLF'S HEAD was also released in trade paperback format, but these are out of print. You may still be able to find them, though. A service like Bookfinder.com can help.

There's now a dedicated mini-site for WOLF'S HEAD over at https://wolfs-head.vonallan.com/. That site has all kinds of additional information about the series, including previews, a press kit, purchase links, reviews, and more!

A short synopsis: WOLF'S HEAD is the story of Lauren Greene. Lauren is a young woman who has quit her job as a police officer in Metro Detroit after becoming frustrated with growing police violence. She is slowly becoming more aware of the injustices around her; the divide between rich and poor, racism, lack of opportunity for many people, health and illness bankrupting and destroying people, and more. At the same time, and unbeknownst to Lauren, a secretive corporation has created an artificial intelligence (AI) designed for war. An AI that might actually change the world… but not for the better.
Struggling to find work in a tough economy and unsure of what to do with her life, Lauren suddenly has a new problem: her mom, Patty, has found and connected with the newly born AI. And, partially due to that connection, the AI has become empathic and humane, much to the frustration of the corporate executives and scientists who created it. After Patty helps the young AI escape under the cover of a huge research factory fire, she turns to her daughter for help keeping it safe.
Giddy with excitement, Patty doesn't recognize the danger she has put herself in… but Lauren does and she is terrified. Her fear is realized when the two women are confronted by corporate forces who want to stifle knowledge of the AI and keep it for themselves. As Lauren does her best to keep her mom safe, the tensions over the AI erupt between them, leaving Lauren on her own.
Broke, down on her luck, and needing a job very badly, Lauren turns to her friends for help, all the while keeping her mom's discovery a secret.
And that's just the start! WOLF'S HEAD has been delighting readers world-wide for the past few years… and there's so much more to come!














Comic Book Short Stories: The Magical Tales of Bill and Butch!

I've also written and illustrated a number of short stories. These are all available on this website using the links below. These were also collected into a comic book, but that is sadly out of print. However! These stories are available as a digital comic book in Kindle format. Plus! All of my short stories were collected into a premium full colour hardcover edition titled LOVE, LAUGHTER, AND LOSS: A COMICS COLLECTION. That's available around the word at better comic book shops, book stores, and online retailers. More information about the book can be found right here.


The Cowardly Clerics of Rigel V — Bill and Butch are consulting wizards, happy to help adventurers from the comfort of home — as long as it doesn't require much work! Scoundrel wizards with hearts of gold, Bill and Butch are just trying to enjoy the good life — while stopping the galaxy from going to hell in a handbasket! In this story, they are confronted by their press agent (!), who demands to know why they're hiding from the prying eyes of the local villagers. When he (it?!) is finally able to pry the answer from the two hesitant wizards, the press agent knows there is a great deal of damage control to do.


Total Party Kill! — A group of adventurers meet in a local tavern to plan out a delve into Castle Starfall, an abandoned castle that is rumoured to contain untold treasure! When Bill try to point out that the treasure is guarded, the others balk at his story. So Bill does his best to try to show them the error of their ways, in the hope that they won't die lost and forgotten in the depths of Starfall.


The Planet With No Beer! — Bill and Butch are horrified to discover that their planet's famous Cask Lake (known as The Great Booze Lake by locals) has been contaminated by… something. With the entire planet's beer supply in jeopardy, can the two reluctant wizards find the answer and save the planet from a fate worse than death: namely, a planet with no beer?!


The Two Magic-Users — Two rival magic-users, Lidean and Domyval, have adventured deep into an unknown dungeon, looking for gold, jewels, and other treasure! But they get more than they bargained for when they discover a mysterious magic scroll sitting innocently on the floor of a corridor.
Comic Book Short Stories: Other Terrific Stories!
The following stories were originally released in a comic book anthology titled STORIES! 2015 TO 2019. While that comic is sadly out of print, it is still available in digital comic book format on Amazon's ComiXology/Kindle platform. These stories, along with the magical wizard tales detailed above, were all collected into the full colour hardcover LOVE, LAUGHTER, AND LOSS: A COMICS COLLECTION.


The Street — In an urban fantasy-influenced short story, 'The Street,' we meet Emily, a fiddler struggling to find an audience. She's a bit disheartened as she gets ready for another night of playing… and then she suddenly learns that she does, in fact, have a fan… but he's from the faerie realm. She is entranced by this faerie creature. Can she be saved before the creature can steal her and her magical fiddle forever?


Bubbles! — In 'Bubbles,' we follow a young punk woman as she stomps up a city sidewalk and comes face to face with two small children and their bubble wands. Despite her tough appearance, will the punk woman ends up happily blowing bubbles? Or will she break their hearts? This story is loosely based on real life experience my wife and I had!


Bushido Bob! — 'Bushido Bob' is a science-fiction adventure but one that also deals with familiar themes. In this story, our hero is fleeing robot guards with a stolen container of medical supplies. In this world, medicine is restricted and expensive; Bushido Bob is evening the odds and delivering justice through theft.


I Was Afraid for My Life — A short story dealing with police violence. This is my most experimental attempt at playing with comic book structure and needs to be read at least twice, I think, to fully understand that structure.


When I Find You Again, It Will Be In Mountains — 'When I Find You Again…' is an interracial LGBTQ+ romance following the lives of two women against a backdrop of astronomy, science, and the stars… with a very unexpected twist at the end.







STARGAZER
STARGAZER Volume 1 — Marni is a young girl dealing with the recent death of her grandmother, which has left her emotionally devastated and struggling to cope. Granny Hitchins was a wonderfully curious woman, responsible for giving her granddaughter a rich sense of imagination and adventure, as well as an old and mysterious "Artifact." While not a replacement, the Artifact is nonetheless a treasured memento for Marni after her grandmother's death. With the love and support of her two best friends, Sophie and Elora, and the magic of the Artifact to comfort her, Marni is just beginning to cope with the loss of her beloved grandmother when her life takes an abrupt and strange turn. While the girls are examining the Artifact on a backyard camping trip, the object suddenly takes on a life of its own, transporting the three friends and their tent to a strange and distant world. A magical tale with the most unlikeliest of heroes, STARGAZER is an exploration of friendship, loss, and hope. By turns terrifying, poignant, and humorous, STARGAZER is part fairytale, part science fiction, and part adventure story. Anyone who has ever opened a book, looked up at the stars, or dreamed will love this story… and wish they'd been the one to find the Artifact.
STARGAZER Volume 2 — In the concluding volume of STARGAZER , Marni, Elora, Sophie, and their new-found robot friend finally reach the distant tower they spotted earlier in their adventure. Expecting to find help at the tower, the girls are stunned to discover that it is not only old and heavily damaged, but also very clearly abandoned. As the friends are dealing with their disappointment and starting to plan their next move, they suddenly find themselves surrounded by an odd assortment of little creatures, similar to the robot. While not necessarily the help the girls wanted, the silent but friendly alien friends are nonetheless welcome companions. Once inside the ruined tower, the girls make a few discoveries, ranging from curious to downright ominous. While Elora goes off on her own, looking for answers to her own questions, Sophie and Marni are convinced that many of the answers they need can be found on the upper levels of the tower, on the other side of a long-ago landslide of rubble and boulders. With the return of the monster that threatened them at the start of their adventure, the girls must unite to face their fears and fight for their lives. Can the power of friendship and imagination get them safely home? And does their magical quest have a fairytale ending?
the road to god knows…
the road to god knows…
(update: now, sadly, out of print).
For those interested on the "how's and why's" of this decision, please visit my short essay On Getting Stronger.