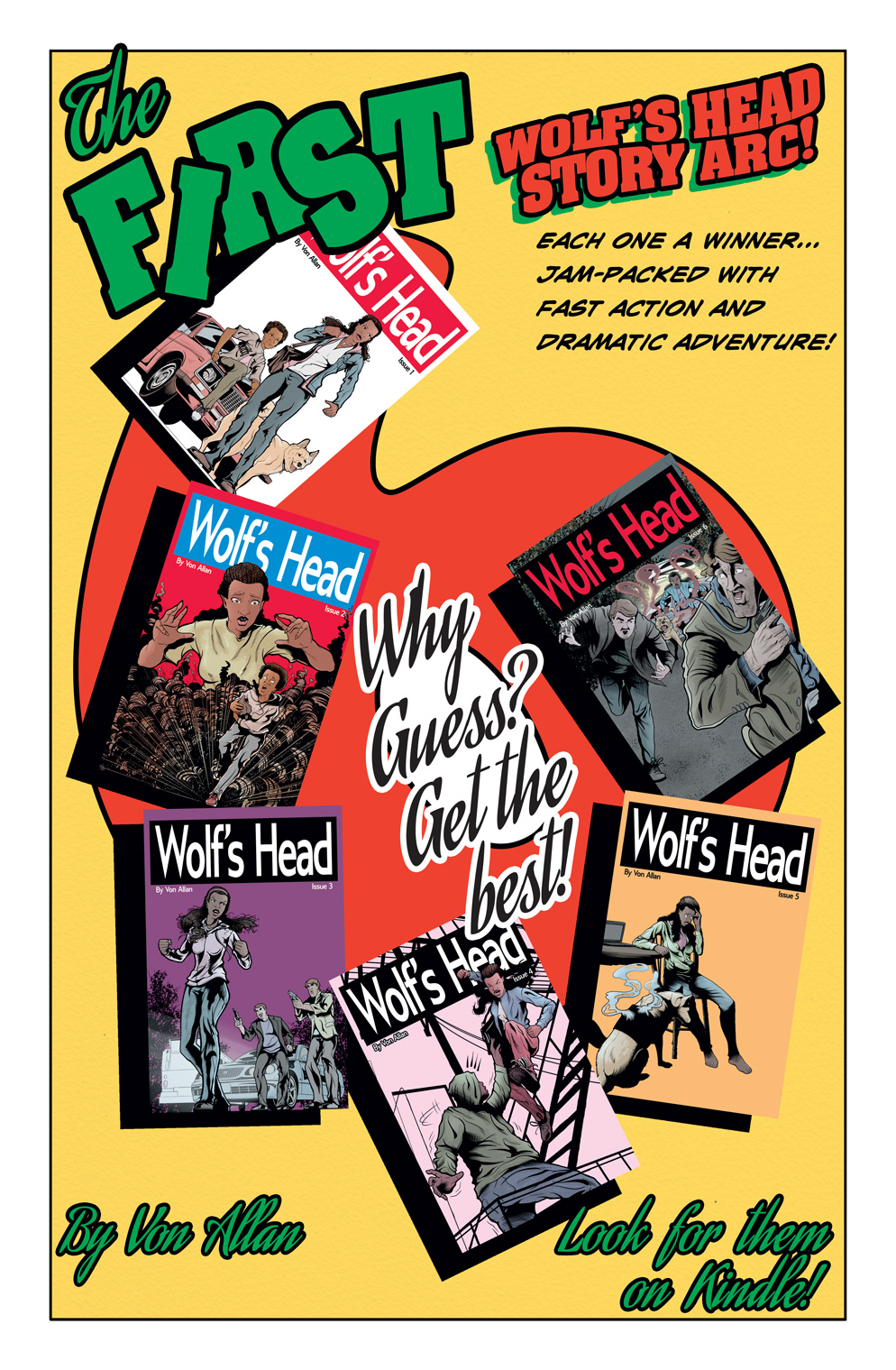 As
WOLF'S HEAD BOOK ONE
continues to make it's way around the world
, I thought I'd take a moment and talk about what's
inside
the book. At 176 pages, it's packed full, featuring the first six issues of the digital series as well as loads of "extras" that serve as a peek behind the curtain of its creation.
Right from the beginning I tried very hard to design the series to work episodically as well as collectively. What does this mean? Well, each issue stands on its own, giving what I hope is a terrific reading experience. Probably the only exception to that is the very first issue. Why? 'Cuz issue 1 ends on a cliffhanger! Issues 2 through 6 don't, however, and I really wanted that to be an important of the series. This is the notion of "episodic closure" that I've discussed before. At the same time, I also wanted an impetus, that sense that events were building towards
something
. Step by step, issue by issue, events and circumstances were racing towards a strong climax. That culmination is in issue 6 and I think that payoff is incredibly exciting; when the six issues are read together, one gets a really neat story. A story full of change, reversals, and excitement! The hardcover collects all of that in one handy place. Plus its a beautiful edition, too!
That's something I love about comics. I also love it about storytelling in general, but I especially love it in comics. That sense of "Wait! What happens next?!"
WOLF'S HEAD
has that in spades and I'm extremely pleased with how everything turned out.
Of course, you don't have to own the hardcover to get that thrill. The digital series does the exact same thing, just in a slightly different format. While I think the hardcover is great for curling up and reading, reading on a tablet or even your phone can offer the same kind of experience. When it comes to my own reading habits, I'm not an elitist. I read paper books, I read on a tablet, and I read on my phone. And I read all sorts of stuff, including comics on all of these platforms. For digital, I tend to prefer reading on a tablet, but I've had lovely experiences reading on my phone, too. For the digital series of
WOLF'S HEAD
, I worked very hard to ensure that even for those reading on their phone the experience would still be really smooth and intuitive.
So, what's next? Well, I'm hard at work on issue 18 and that should be out in the not-too-distant future. And I'd also like to collect the second story arc into a matching hardcover, too. There's no firm date for that yet, but it's coming.
In the meantime, please enjoy
WOLF'S HEAD
in whatever form suits you best. The whole idea was to offer readers a lot of different ways to enjoy the series. If it's the hardcover, terrific! It's the digital versions, great! Whichever way suits you best works just fine for me!
Oh, and if you're brand new to the series and would like to learn a bit more, here's the ol' Elevator Pitch for
BOOK ONE:
"Lauren Greene is an ex-police officer who turned her badge in after becoming frustrated with the police force's corruption. She's had enough of violence and is thinking about packing her bags and hitting the road to see how she can make a difference out in the larger world, when her mother Patty shows up at her door with a complication. It turns out that Patty's employer — a secretive military corporation — has created an artificial intelligence to fight humanity's wars. Unfortunately for the corporation, the AI fell in love with Patty's humanity and orchestrated its own escape through her. Giddy with excitement, Patty brings the AI straight to Lauren for help, not realizing the danger she's putting herself and her daughter in. But Lauren has dealt with people like this; she knows what they're capable of and she is terrified. Her fears are realized when she and her mother are confronted by corporate goons who want the AI for themselves and are willing to do anything to get it. As Lauren does her best to keep herself, her mom, and her family safe, the tensions over the AI erupt into violence… and suddenly Lauren is on her own. The new little life form doesn't want to go back to the corporation and Lauren realizes it cannot be forced to live out its life as a war machine. There is already enough corruption, inequality, and violence in the world; the AI has to have a chance to help humanity — peacefully — while figuring out its own existence. Together with the AI, an eccentric cast of friends and family, and her dog, Lauren must figure out her next steps… while keeping herself alive."
Where To Buy
Here are all of the key purchasing links for the hardcover:
United States of America
Canada
United Kingdom
Mexico
Spain
France
Germany
The Digital Series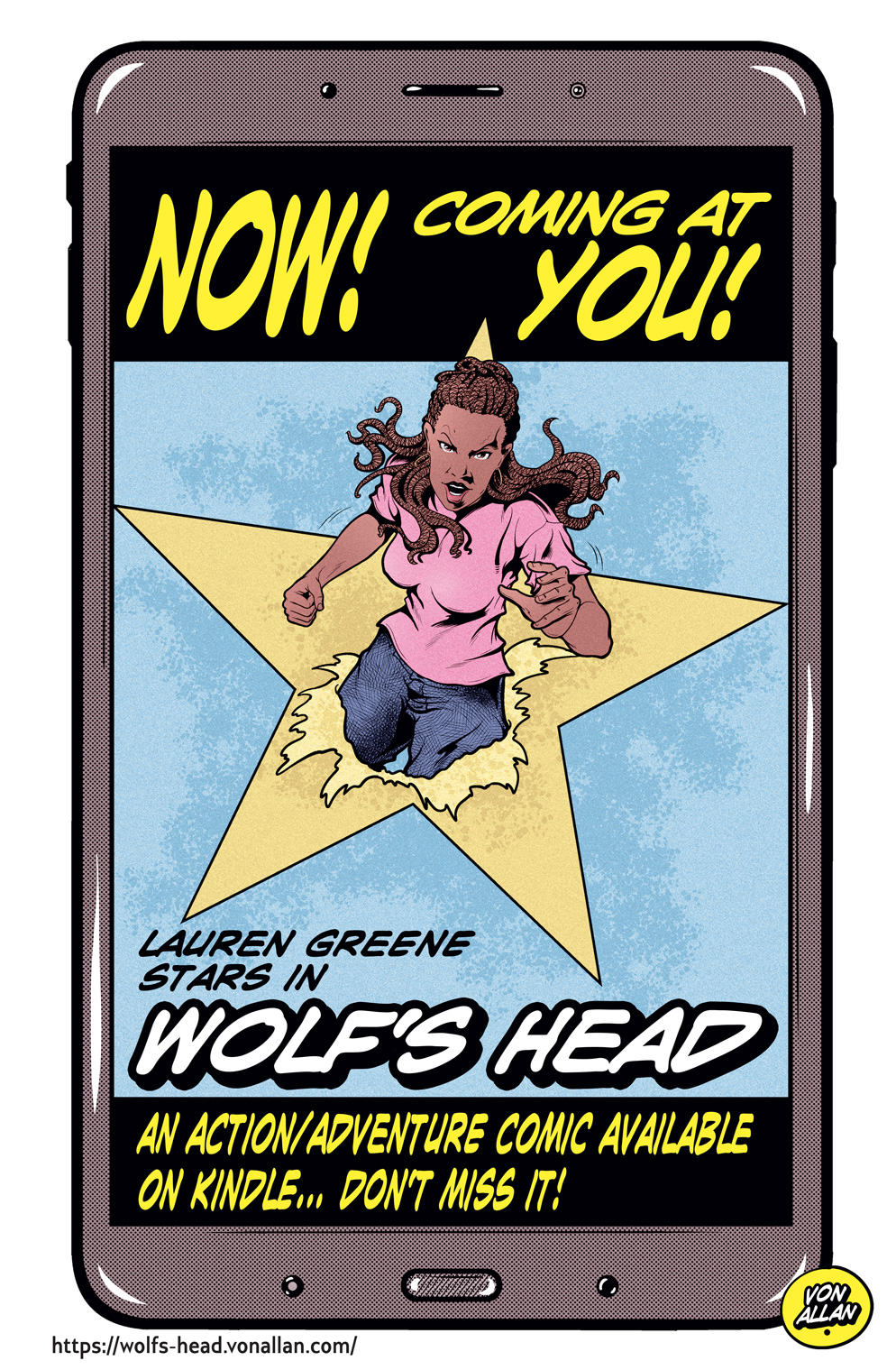 Don't forget that the series page for the digital version of
WOLF'S HEAD
on Kindle can be found using the following links: