With the holidays just around the corner, I thought I'd take a moment and summarize my two hardcover graphic novels that were recently published. Why? Well, I think that they both are perfect gifts for the holiday season! I'm very proud of both of them. I think they both are the best representations of my art and writing that have ever seen print. Both books are beautiful and I'm extremely pleased with how they both turned out.

Both hardcover graphic novels are available pretty much everywhere in the world. One of the remarkable things that the internet has brought us all is the relatively easy way to find and buy books. I still remember, back in my bookstore days, how tricky it was to actually books. And if one goes back any further, prior to the internet, finding specific titles, especially indy books from indy authors, was extremely difficult. One would have to search local stores, reach out to fellow fans in other towns and cities, and even write to stores in other countries to track down a title. Now? It is so much easier. It really is a remarkable change. For an independent comics creator like me, it is a huge change.

With that said, here we go!


WOLF'S HEAD BOOK 1
For WOLF'S HEAD BOOK 1: WE ALL WANT TO CHANGE THE WORLD, you can find a listing of stores carrying it by visting
https://www.vonallan.com/2021/12/wolfs-head-book-1-in-hardcover-worldwide.html
or by visting the
Von Allan Studio Shop Page
. Plus there are online stores like
Amazon.com
,
Bookshop.org
,
IndieBound
,
Barnes and Noble
, and so on. Previews of the graphic novel can be found
right here
and there's a
tremendous review
by
Frank Plowright
over at the Slings and Arrows Graphic Novel Guide site.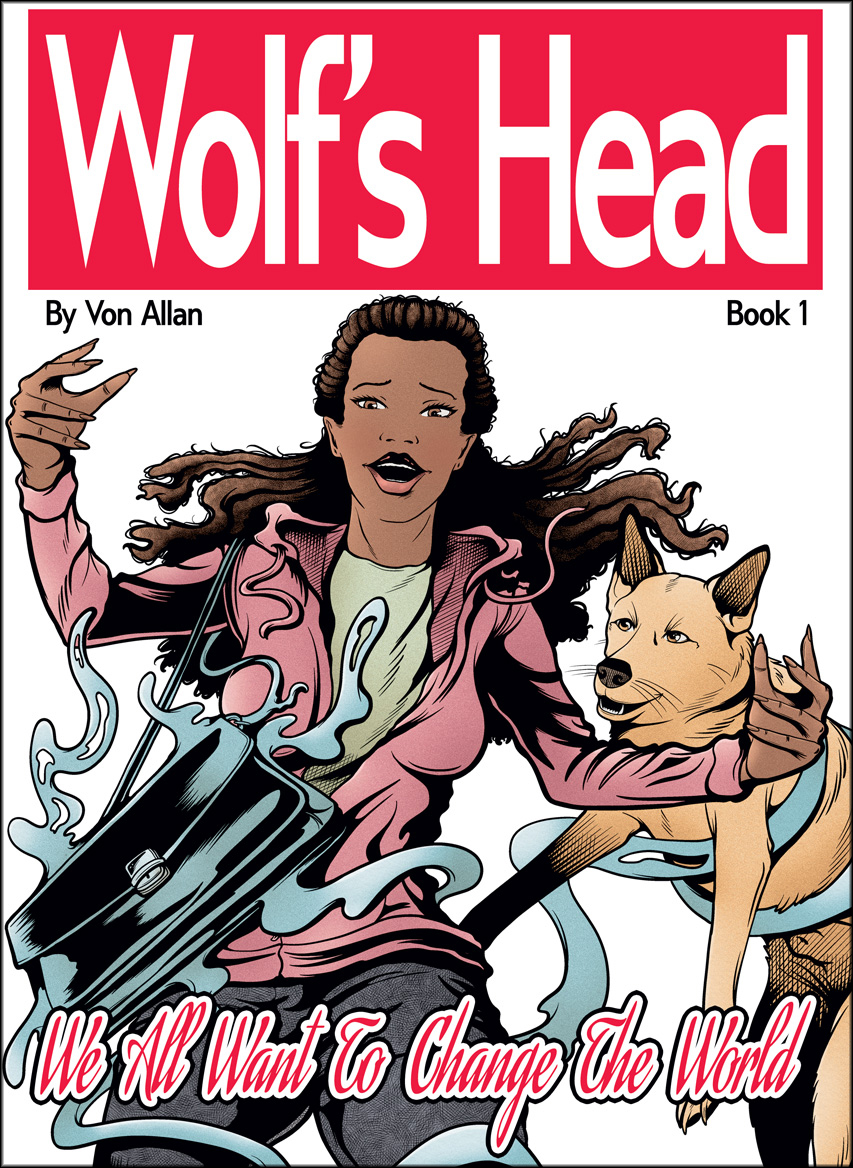 WOLF'S HEAD BOOK 1 collects the first six issues of the ongoing
WOLF'S HEAD comic book series
in full colour. The graphic novel version is 176 pages long in full colour. And what's it about? Well, here's what my illustrous editor and I wrote for the synopsis:
Lauren Greene is an ex-police officer who turned her badge in after becoming frustrated with the police force's corruption. She's had enough of violence and is thinking about packing her bags and hitting the road to see how she can make a difference out in the larger world, when her mother Patty shows up at her door with a complication. It turns out that Patty's employer — a secretive military corporation — has created an artificial intelligence to fight humanity's wars. Unfortunately for the corporation, the AI fell in love with Patty's humanity and orchestrated its own escape through her. Giddy with excitement, Patty brings the AI straight to Lauren for help, not realizing the danger she's putting herself and her daughter in. But Lauren has dealt with people like this; she knows what they're capable of and she is terrified. Her fears are realized when she and her mother are confronted by corporate goons who want the AI for themselves and are willing to do anything to get it. As Lauren does her best to keep herself, her mom, and her family safe, the tensions over the AI erupt into violence… and suddenly Lauren is on her own.

The new little life form doesn't want to go back to the corporation and Lauren realizes it cannot be forced to live out its life as a war machine. There is already enough corruption, inequality, and violence in the world; the AI has to have a chance to help humanity — peacefully — while figuring out its own existence. Together with the AI, an eccentric cast of friends and family, and her dog, Lauren must figure out her next steps… while keeping herself alive.
And here's a fun little teaser I did that showcases some of the themes and art from the collection:
It really is a fun graphic novel with all kinds of twists and turns. I'm very proud of it and I'm extremely pleased with how sharp the printing turned out.
LOVE, LAUGHTER, AND LOSS: A COMICS COLLECTION
Next up is my hardcover short story collection! Like WOLF'S HEAD BOOK 1, this is available worldwide and is widely available online at sites like
Amazon.com
,
Bookshop.org
,
IndieBound
, and
Barnes and Noble
. Photos of the graphic novel collection and more links can be found
right here
or by visting the
Von Allan Studio Shop Page
.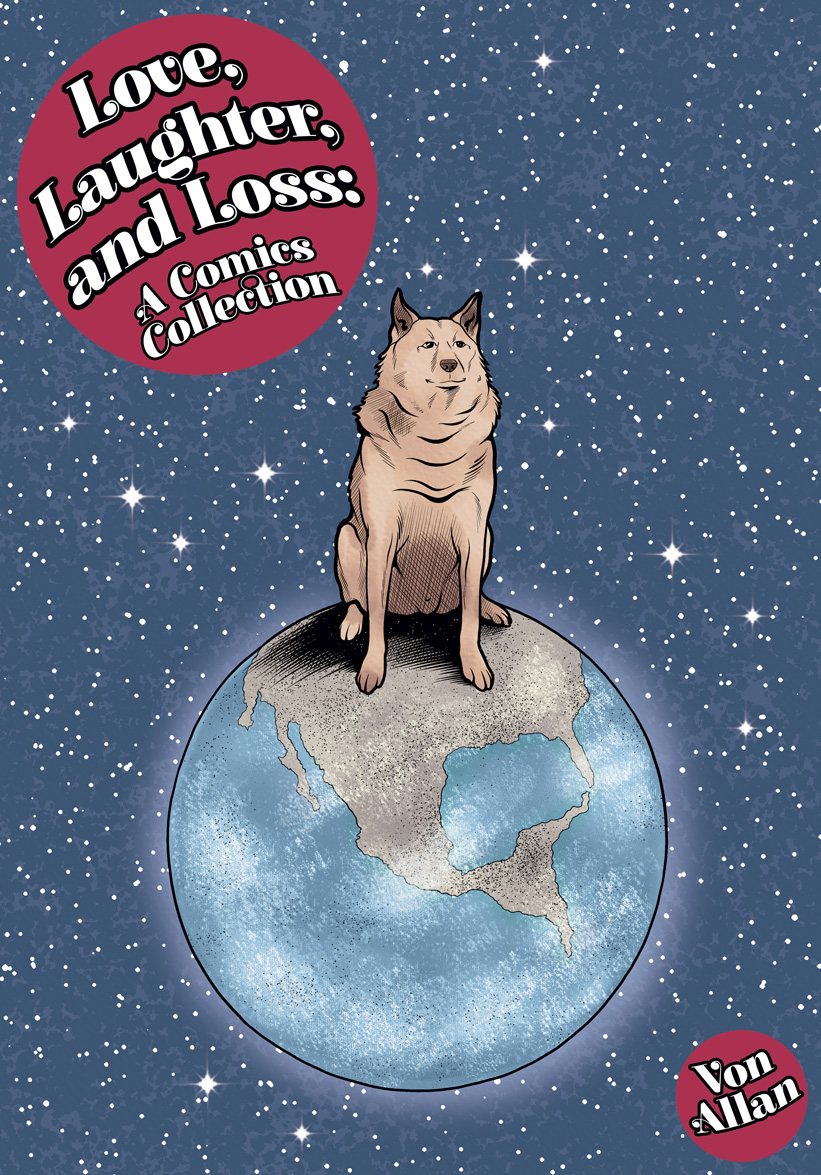 Unlike WOLF'S HEAD BOOK 1, this is a short story collection featuring some of my favourites. All of these short stories are available for free on this website (you can find the links to each short story in webcomic format
here
). Frank Plowright also did a great review of the collection at
https://theslingsandarrows.com/love-laughter-and-loss-a-comic-collection/
.
Here's the short synopsis from the book:
This collection contains nine short stories by Canadian writer/artist Von Allan that, together, represent the best and worst parts of life; love, laughter, and loss. Travel around the world (and sometimes even off world!) with average people, heroes, cowardly adventurers, and even a dog. While these stories were previously published in two periodical collections ("WIZARDS FOR HIRE-CHEAP!" and "STORIES! 2015 TO 2019"), this marks the first time they've appeared in a premium hardcover format.
And here's a teaser image from the collection!
Like WOLF'S HEAD BOOK 1, this short story collection is perfect for fans of comics and graphic novels. The short stories really range in tone and theme and I'm extremely pleased with how they look in print.
So, that's that! Two beautiful graphic novels that fans of comics will fall in love with. If you need a gift for someone (or even just yourself!), please do consider them. You won't be disappointed!